Ricoh (HK) and Axisoft co-developed MiniSQUARE for Ricoh MFP
In order to increase the compatibility of Ricoh Multifunction Printer (MFP), Axisoft joins Ricoh (HK) in the development of MiniSQUARE (EasyFlow), an affordable Document Management Solution (DMS) bundled with Ricoh MFP products.
MiniSQUARE is an MFP connector for SQUARE Content Collaboration Platform. With MiniSQUARE, you can easily share documents among colleagues, quickly create auto e-document workflow and improve work efficiency with streamlined document management. Moreover, MiniSQUARE is designed to be flexible and easily adopted to satisfy different business needs. See the MiniSQUARE workflow below.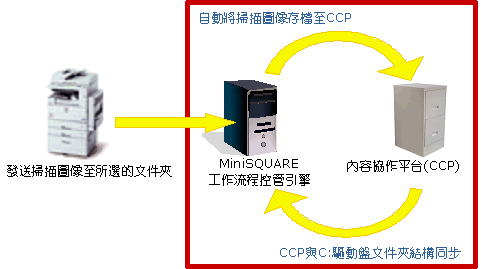 Please reload